God's a good playwright… just when you think the curtain's coming down the plot takes a freash twist, and you find that, in spite of death and disappointment, life still goes on.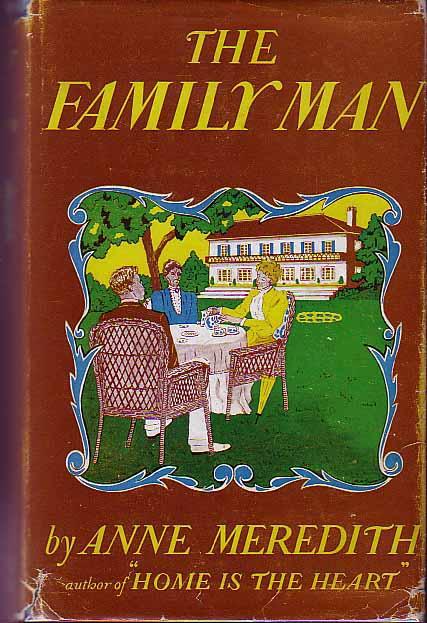 Anthony Gilbert is one of my favourite authors of all time. However, Anthony Gilbert was not the solo pseudonym of Lucy Beatrice Malleson. Malleson also wrote more main stream novels under the name of Anne Meredith.
The Family Man, though written in 1942, is about a Victorian family: the Clairs. There is the patriarch Edwin and his wife Jane and their six children. Three sons: John, Patrick, and Lucian and three daughters: Rosamund, Julia, and Drusilla. There is also Edwin's mother, Henrietta; the unmarried daughter, Penelope; and occasional visitor, Oliver, Jane's brother. The novel follows the characters as they chart their different destinies. John, the eldest marries Lydia not considered good enough by the Clairs though accepted by them. Patrick pursues medicine while Lucian becomes a musician.
The daughters have more adventurous lives. Rosamund, who is much in demand, finally falls for the divorced, Julian Strange and this leads to her estrangement from the social circles she moves in and the family and the couple has to go to Italy. Julia, becomes a committed women's rights champion, even living in poverty at times but not compromising on her ideals. The youngest, Drusilla, who becomes a painter's muse is clear enough that all these youthful adventures aside, she'd always like to settle in aristocratic luxury which she achieves when she marries Geoffrey Court. The young ones even get their spinster-aunt, Penelope, married to the rector. And it is Penelope's thoughts on her missionary sister-in-law, Ruth, that for me took the cake:
But Ruth hadn't been at the rectory a week before Penelope found herself wishing that the cannibal tribes among whom she claimed such success had bestowed upon her the crowning grace of martyrdom.
Lucy Malleson proves that whether writing as Anthony Gilbert or Anne Meredith, she could spin an engrossing yarn. The only thing that I didn't like was the negative view of the father in the end because to me, the father with all his faults, was much more involved in the lives of his children than the mother who was a little too aloof for my liking. However, all in all, this was an interesting look at the changing social fabric of Britain at the turn of the century. Much recommended.
*
First Line: The house faced the river and the river presented an unwearying vista of change.
Publication Details: London: Faber and Faber, 1942.
Pages: 301