Author Belton Cobb had been on my reading radar since I read this post @ Pretty Sinister Books. Though I didn't get the book that John has praised so handsomely, recently I was able to borrow two other mysteries by him.
Inspector Burmann's Black Out
"You may know, Inspector- but I don't – that you didn't give her that drink yourself!"
This, the net tells me, is the tenth book in the Inspector Burmann series. Burmann is spending a weekend with his cousin Basil and wife Barbara Woods when the air-raid signal goes off. The denizens of the building make their way to the basement. And make their way is correct because some of them show no hurry to get to the place of refuge. A couple of ladies, in fact, have bought special dresses (siren suits they are called) for the occasion and dress up in those before going to the basement. A man dresses up in his corporal's uniform, though the impression is rather spoilt, as one can espy his pyjamas underneath the uniform trousers. How does one think of dressing up when bombs are liable to fall at any moment? The author's note makes it clear:
This story was written in an almost forgottrn era – the pre-Blitzkrieg days of Spring, 1940. It seems necessary to mention this fact, for otherwise the behaviour of people during their first air-raid warning might appear so remote from present air-raid psychology to be unreal.
The assembled company is offered tea by Miss Weston who stays in the basement but Basil says that he'd rather have whisky and goes back to his quarters to get it. However, Barbara who has opted for whisky rather than tea is violently sick afterwards. Burmann immediately recognises the signs of arsenic poisoning and jumps to the conclusion that Basil must have poisoned his wife as the two were not happy together. Unwilling to arrest Basil himself, he rings up the police but doesn't give his real identity as a Detective-inspector in the Yard.
Superintendent Sinclair, however, soon has it out of him and asks Burmann to help him in investigating the case. When Burmann protests that he wouldn't like to be the one to put his own cousin behind bars, Sinclair stumps him by saying that more than Basil it's Burmann's activities that are suspicious. The more Burmann tries to prove his innocence, the more Sinclair presents to him the motive and the opportunity to have given poison to Barbara. Burmann in fact is scared out of his wits and starts or as the Superintendent remarks sarcastically his earlier attitude of not getting involved in the case completely evaporates the moment he feels the web tightening around him:
"You were most anxious to play no part in this case – until suspicion was directed at yourself. I haven't noticed so much diffidence lately, Inspector."
This is a strange introduction to a series 'hero'. Burmann is so zapped by the suspicions of Sinclair that he behaves in an idiotic way, often seeing his theories being torn to pieces (the metaphorical black out of the title). Further, he comes across as a rather mean-spirited person who makes false accusations and bullies people only to get out of the net himself. I could understand his cousin's objections to him. Even his solving the case, in the end, did little to dislodge that impression of his. Perhaps a more conventional introduction to the character would have been better,
*
First Line: At one o'clock in the morning, Detective-Inspector Cheviot Burmann slipped quietly out of Miss Weston's sitting-room in the basement of Hayford House, and made his way up the staircase to the flat of his cousin on the first floor.
Publication Details: 1941. London: Longmans, Green and Co., Ltd, 1941.
Series: Inspector Burmann #10
Pages: 259.
*
Double Detection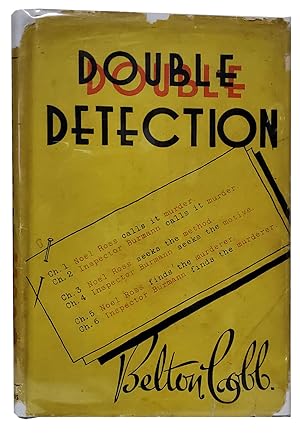 The second book by Cobb also has two detectives. Inspector Burmann and Seargeant Ross, ex-Scotland Yard. Ross who has had surgery and has been advised by the doctor to take rest at a seaside resort is persuaded by his wife, June, to make a journey to HITE C IFFS HOTE. The missing letters of White Cliffs Hotel on its hoarding epitomise the seediness of the hotel. The dark front door, the broken unpolished door-handle, the rusty barbed wire 'adorned' with wind-blown bits of sea-weed and fragments of old shirts add to the gloominess of the place.
The people staying in the hotel too don't seem to hold any charm. There is the old General and his wife who are permanent residents of the place; a stout businessman Loibie; and Babshaw, a man forever covered in rugs because he is terminally ill. The only bright spark it seems is Mr. Griggs and his daughter. The hotel proprietors tell Ross, rather optimistically, that Griggs would keep him amused. However, Ross on hearing about this gent has a very different reaction than the one intended by Mrs. Ransome and Mr. Peacock who run the hotel:
Well, of course, in the stae of mind I was in, the one thing more intolerable than the company of invalids, business magnates and septuagenarian warriors was the society of a natural buffoon. In fact, by then, being frightfully tired and having realized that however awful the place was I should have to have one night's rest in it before I went home, I felt that just about the one thing I could do successfully would be to share these people's "preoccupation" and sink like them into a state of coma. Failing that, I could lie on my bed and sob. But if Griggs or any other witty man tried to amuse me, I should gather my last strength and do a murder.
Ross doesn't murder Griggs but somebody does though the doctor is of the opinion that Griggs merely died of a heart attack. Nobody takes Ross' suspicions and allegations seriously till Ross finds Inspector Burmann in the lobby of the hotel and jumps to the conclusion that the latter is there to investigate the death of Griggs. But is that what has drawn Burmann to the seaside resort?
I found this book better than the first one. Ross appealed to me more than Burmann and I enjoyed his narrative of events. Certain sections of the novel are narrated by Ross while the rest have a third-person limited from the pov of Burmannm and it was fun to read their different reactions to and comments on the people in the hotel.
*
First Line: "Here we are," cried June, as our train drew in at the station.
Publication Details: 1945. London: Longmans, Green and Co., Ltd., 1945.
Series: Inspector Burmann #11
Pages: 168
Other Opinions: In Search of the Classic Mystery Novel
*
I'll be searching for more books by this author. Have you read him?