Thanks to Tracy K @ Bitter Tea and Mystery, I came to know of the three-months long Japanese Literature Challenge being hosted @ Dolce Belleza . As I have a few Japanese books on my wishlist/ TBR, I decided to join the challenge.
The premise of Dark Maidens is certainly intriguing. Teen-aged school girls – all belonging to the literary club of an elitist missionary school – meet one dark, stormy night to discuss the death of Itsumi, their former president. That young girl had been found in a bed of flowers, clutching a bunch of lilies in her hands. Was her death an accident, suicide, or murder? Five girls present their own relationship with the dead girl; their initiation into the literary club, and their own views about the death in the form of a short story, in a ceremony called the Mystery Stew. The Club President, Sayuri, who has taken over after Itsumi's death, passes her own remarks at the conclusion of each story. Will the truth be revealed?
I have always loved the Roshamon trope being used in books and movies: the same event being narrated from different points-of-view and perspectives and in this The Dark Maidens doesn't disappoint though I feel that the science student Sonoko Koga with her 5Ws1H shouldn't have been saddled with the story of vampires and Devil's servant. That would have suited the novelist Shiyo Takonka better while Takonka's story with its logical reasoning could have been given to Sonoko. However, these are just minor irritants in a book that I found quite gripping and virtually finished in one sitting. Though marketed as a YA book (with illustrations to boot), I think this is a book for all mystery lovers with unreliable narrators, undercutting, and a truly twisted end.
And the literary salon with bookcases full of books, the secluded atmosphere, and the cakes and coffee that appear as if by magic had me salivating.
I am keen to explore more of this author. Have you read her?
*
Opening lines: Greetings everyone. I would like to thank you all for gathering here on this stormy night.
First Published: 2013
Original Title: Ankoku Joshi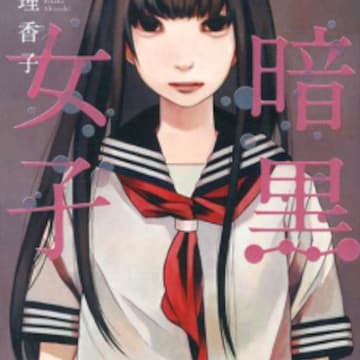 Translator: Kristi Fernandez
Publishing Details: NY: Vertical, 2018.
Alternate Title: Girls in the Dark
Other Opinions: Crime Fiction Lover, English Light Novels