This week in Top Ten Tuesdays hosted @That Artsy Reader Girl, we have been asked to name top ten (or more or less) new authors whom we discovered last year. Well, last year I read a host of new authors from those whom I made a special point to read like Reginald Hill and Shelley Smith to those whom I accidentally chanced upon like Anne Hocking and Francis Grierson; those who wrote only one mystery like Denis Mackail to those pretty prolific like Harry Carmichael; those like Alan Melville and Moray Dalton who are seeing a rebirth thanks to the publishing houses like British Library and Dean Street Press to those who are waiting to be republished like Cecil Freeman Gregg. These authors, if you are interested, can be found over here. But there were quite a few whom I could not review because of various factors. Here then are 14 of them in alphabetical order of their first name:
Andrea Carter: New mystery books often leave me disappointed but I loved the author's first Inishowen mystery with an intelligent lawyer, Benedicta "Ben" O'Keeffe, as the protagonist. The mystery begins when Ben discovers a skeleton in a crypt. As she tries to solve the mystery, with the help of Sergeant Tom Molloy (liked the suggestions of a romance b/w the two), she realises that the skeleton points to the troubled past of Ireland. Eager to get to the second book and am a little surprised that this series is not more widely-discussed.
First Line: The wind was bitter.
First Published: 2015
Publication Details: Sarasota: Oceanview Publishing, 2018
*
Celia Fremlin : An author long on my reading radar. Last year I read her (sort of) Christmas mystery: The Long Shadow and cursed myself for not reading her earlier. Narrated by the recently widowed, Imogen – who finds herself being accused of killing her professor husband -the novel blends mystery and humour wonderfully especially as regards widowhood and family relations. But there is also tragedy connected to our general apathy and indifference to mental illness.
First Line: "No he died two months ago," she said, "I am a widow," and she waited for the tiny recoil behind his eyes, the twitch of unease, as he adjusted himself to the embarrassment of it.
First Published: 1975
Publication Details: London: Faber and Faber, 2014
*
E. Charles Vivian: A group of acquaintances, isolated in a large castle while snow falls outside play a game of Murderer with predictable result. Not particularly impressive.
First Line: An aged spoonerism came into Montagu Kemp's mind when the porter approached him on Crandon stattion platform….
First Published: 1935
*
Henry Farrell: Again a writer on my to-be-read list. How Awful about Allan is about a young man who suffers from psychological blindness (first-time I heard of such a medical condition) because of the responsibility he feels in the death of his father. His sister has to shoulder a lot of responsibility and as their financial condition is worsening decides to take in a tenant. Only the eponymous hero (?) feels there that there is a danger from the tenant. But what danger? The novel has a nice, twisty end; only the characters were so unpleasant that I really couldn't sympathise with any of them.
First Line: A car, a delivery truck I guessed by the sound, passed through the street below.
First published: 1963
Publication Details: Avon: 1965
Pages: 159
*
Henry Holt: The only information I have got about him was that he was a British Crime writer best-known for his Inspector Silver series. The book, I read, The Man who Forgot begins very well when a man walks up to the house of artist Sophie Ware and asks her whether she knows him. He has, apparently, lost his memory. There is an attaché-case in his hand and when he opens it, he finds it stuffed with money. Slowly he becomes convinced that somehow or the other he was involved in the murder of millionaire David Briscoe. In order to get to the truth of the matter, he joins the news agency of Jim Gale and along with the feisty girl reporter, Ginger, tries to solve the mystery though all the time he is haunted by the thought that if he was to discover that he himself had murdered Briscoe would he surrender to the police. This novel began extremely well but as the amateur became a little too smart, I lost interest in it.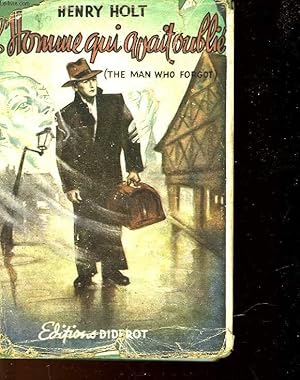 First Line: Thursday, 3rd October: The afternoon light was fading when a man, carrying an attache case walked up a garden path towards a studio in Chelsea.
Publication Details: London: Robert Hale, 1943
Pages: 196
*
Iain Reid: What can I say about this Canadian author's debut: I'm Thinking of Ending Things? It is so unsettling and so scary that though I was reading it in the room just next to where my family was sleeping, I was terrified! And Reid doesn't create this terror with in-your-face-horror but rather subtly where even mundane conversations take on a sinister hue. A young girl is thinking of ending things with her beau but still decides to take a trip to meet his parents. It is a journey you won't be able to forget in a hurry, if ever. One not merely to be read but experienced. And did I cry in the end!!
First Line: I am thinking of ending things.
First Published: 2016
Publication Details: Gallery/ Scout Press, 2016
Pages: 224
*
Jerry Pinto: Homosexuality was accepted in Ancient India but first the Islamic invasion and second the British conquest of India hardened the attitudes against homosexuality, making it a criminal offense. In post-colonial India when laws continued to be the ones established by the British, homosexuality continued to be a legal offense under section 377 of the IPC. In 2009, the High Court of Delhi struck down much of section 377 as unconstitutional but a 2013 judegement of the Supreme Court revoked the High Court's order and upheld the constitutionality of Sec 377. Finally after an uphill struggle by certain political leaders, civil society, socio-religious organisations etc the Supreme Court decriminalised consensual homosexual activities in 2018. Pinto's book Murder in Mahim takes place b/w 2013-18 when homosexuality was again seen as a criminal activity but was also very much in the public sphere after the landmark judgement of 2009. Homosexuals were considered easy prey for blackmail not only by criminals but also people in the police force. This is a dark book which exposes the stinking underbelly of India in general and Mumbai in particular. The aged retired journalist Peter D'Souza is a most likeable hero as he investigates the murder of a man in a public convenience along with his friend Police Inspector Shive Jende and worries with his wife, Millie, whether their son Sunil is a homosexual. A mystery which breaks its confines and becomes a social-document.
First Line: Bombay doesn't do night.
First Published: 2017
Publication Details: ND: Speaking tiger, 2017
Pages: 232
*
Jessica Faleiro: Another Indian writer takes us from Bombay to Goa as a family get-together turns into a night of telling ghost-stories when the power fails in their sprawling bungalow. The stories are fine (and I learnt new things like the inquisition during early Portuguese rule in Goa) but what I enjoyed most was how the mask slips from the face of the primary narrator. Masterly.
First Line: I watched Carol pick at the food on her plate while her husband, Sam, devoured every morsel of his dinner.
First published, 2012
Publication Details: ND: Rupa, 2012
Pages: 169
*
Lee Thayer: Thayer's series character Peter Clancy solves a case of murder at a time when the US was at war. The hero was not likeable and nor were those surrounding him. Fat people and those who objected to the war were ridiculed. Not a good introduction to the writer.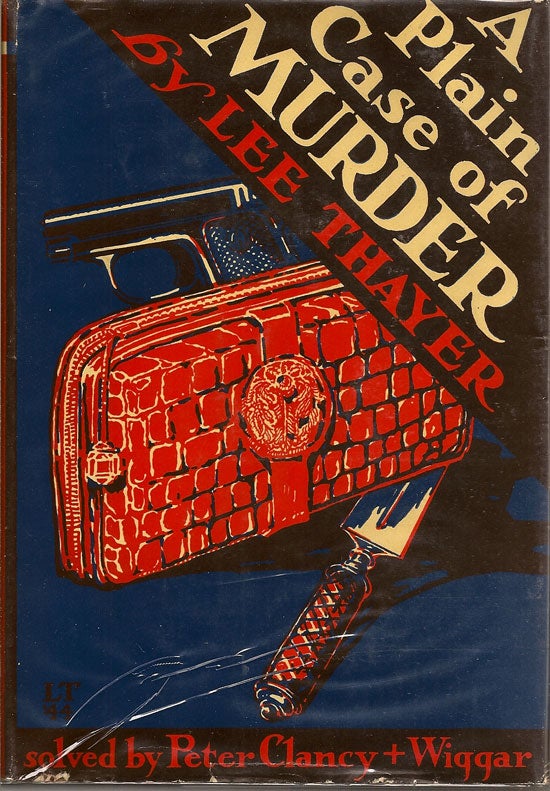 First Line: How is Mr. Clancy this afternoon Wiggar?
First Published: 1945
Publication Details: NY: Hurst and Blackett, 1945
Pages: 176
*
Martha Grimes: Had heard a lot about the Richard Jury series and so started with the first book around Christmas and was I for a disappointment! The moment I heard that a girl wandered around wearing over-sized pullovers, I knew she was the waif, the hero (suffering his own inner demons and typically anti-establishment) would find attractive and would get all protective about. That's why I could empathise with her step-sister (fashionable and venomous) when she acerbically inquired why men got all sympathetic about the waif without even having set their eyes on her. And, of course, if our hero and his friend are interested in the girl, the person she is in love with (or is she engaged – can't really remember) has to be shown in a bad light. God! The sheer juvenility of it all!!
First Line: Outside the Jack and Hammer, a dog growled.
First Published: 1981
Publishing Details: Berkley Books, 2003
Pages: 272
*
Peter Dickinson: Again a book that had long been on my wishlist but that left me feeling underwhelmed perhaps because of my own high expectations. Both Paul and Lucy, now aged and suffering from various ailments, feel that the other person was responsible for the death of Gerry Grantworth, friend, lover, and general scoundrel. Now at the fag-end of their lives they trade notes. I felt sorry for Gerry, so much promise ending in such disgrace.
First Line; The late Lady Seddon's instructions were…
First Published: 1994
Publication Details: Open Road, 2015
*
R.T. Campbell: A good mystery during a science conference is destroyed by the buffoonery of the detective Professor John Stubbs (who seemed to be a copy of Carr's Dr. Fell). It is difficult to take even murder seriously when everything is being treated as a farce.
First line: I don't know what came over me.
First Published: 1946
Publication Details: NY: Dover, 2018.
*
Ramendra Kumar: I read the author's Terror in Fun City in order to discuss it with my LO. Four children: Aryan, Neil, Tanya, and Imran – collectively called the Titans – and hailing from different socio-religio strata of India, foil a terror plot. Half-way through the book with a couple of deaths occurring, I thought that perhaps this was not a right-choice for LO as he might have found it distressing. Only to be told that it was very exciting what with the murders, the chases, and the impending terror of bomb-explosions and when was I getting the second in the series for him🤪
First line: "Ek pauna chai."
First Published: 2008
Publishing Details: Mumbai: Navneet, 2008
Pages: 183
Series: Titans#1
Source: DSPL 823K48T
*
Shadaab Amjad Khan: While Pinto's book details the gruesome reality of India, Shadaab Khan, who is the son of one of Hindi Cinema's most renowned villains – Amjad Khan, writes a book that underscores the fantastic element that we associate with Bollywood. Despite its rather far-fetched plot, an engaging book, that I finished in one sitting.
First Line: Yeh hai Bollywood, meri jaan.
First publsihed: 2015
Publication Details: Gurgaon: Penguin, 2015
*
So, a mixed-bag. Have you read any of these or are some on your wishlist?