Ruth Starling a young American girl finds herself a multi-millionaire when a distant relative dies leaving her half his fortune. Ruth who has always dreamt of becoming an actress now moves to England willing to make a career on stage, undeterred by the miserable flopping of her debut play in the States.
Her lawyer puts her in touch with Philip Trefane who is to act as her agent and manager in all things theatrical and since the season has not begun, Ruth is to spend a few weeks with Philip and his wife Iris at Perranuth Castle. Even as Ruth prepares to take the London audience by storm, she also finds herself thinking about her two suitors: George Dweight whom she has known since her childhood and Lord John Pendervil, a cousin of Philip. Unknown to her, however, Philip has other plans for her: Why not kill the hen that lays the golden eggs and have them all at one go?
Like The Story of Ivy which was my first Belloc Lowndes, this too is a novel of suspense rather than detection. We are as much privy to the thoughts of Ruth as those of Iris who finds herself bewildered by the actions of her husband. The writer doesn't go much into the thoughts of Philip except in small bursts which provide a reason as to why he is planning Ruth's murder. The end of the book is rather tragic:
"Well? That's that, Phil. We'd better go to bed, for we sat up very late yesterday, and it's very late, now."
I didn't care much about the characters. Ruth, in fact, even irritated me a little. The ending is, however, a solid one and redeemed the book which tended to drag just a wee-bit at times.
*
First Line: "Even now I can't think why you want to be an actress!" exclaimed George Dwight.
*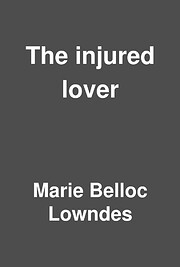 Eurasian Ruby Ashcott is a deeply unhappy wife of a rich business man and aspiring country-gentleman, Jacko Ashcott. Once her beauty and physical charms had attracted Jacko but now he has lost all interest in her as she cannot mould herself into a propah English lady who can entertain guests, look after the house, inaugurate fetes and organise tea-parties and other social activities of the English countryside, and Jacko so desperately wants to be one of the 'gentry'.
Enter Edward Thring, a rising bureaucrat who falls for Ruby the moment he sees her for the first time. Soon he is wooing her ardently and Ruby too after a few initial misgivings responds to his ardour with much the same passion. But just when she thinks that life is now turning beautiful, Thring starts getting tired of her. What does a woman do?
I found the novel quite sad and moving. While Ruby as a character could be quite irritating at times, her tragic fate with murder and death involved made me quite sorrowful. Loved how Belloc Lowndes presents each character with generous as well as selfish traits and how subtly she draws parallels between Jacko and Edward. However, I couldn't understand why Ruby's Chinese ancestory (her grandmother was a Chinese) is described as though it was the mark of the beast.
*
First Line: Edward Thring sank down into the easy chair which Blanche Clyde had bought when she had begun living alone after her father's death.
Alternate Title: The Second Key
*
Both the books were published in 1936 and if you are participating in the #1936 Club being hosted by Simon @ Stuck in a Book and Karen @ Kaggsy's Bookish Ramblings, next week, you could perhaps read them for the event.
Other books read of the same author: (Among others): From Out the Vasty Deep
*
I quite like how Marie Belloc Lowndes presents psychological study in her books. How do you find her?