AUNT BEARDIE by JOSEPH SHEARING
Joseph Shearing is one of the pseudonyms of prolific author, Margaret Gabrielle Vere Long, more popularly known by another pseudonym of hers, Marjorie Bowen. Last year, I read her gothic mystery, The Crime of Laura Sarelle, and was blown away. Determined to read more of her, I selected this novel of hers, praised strongly by John Norris @Pretty Sinister Books (his review of it can be read here).
Lady Sherlock is a happily married woman, wife of a respectable squire and mother of four, she seems your usual high-class lady which the village bow-tows to. However, her eldest daughter, Jenny feels that a shadow lies over her mother, that even at her happiest, there is something deep inside that troubles her. Could this be related to an episode in her mother's childhood when as Vivienne de Vernon, the young daughter of a French aristocrat, fleeing from the horrors of the revolution, she had found herself in Hamburg along with another young girl, Estienne de Saint-Alde? Her mother is reticent about that episode in her life but Jenny is keen to find out the truth. So when, suddenly out of the blue, Estienne enters her mother's life again, Jenny is keen to find out the truth from Aunt Beardie (as poor Estienne is called on account of a few bristles on her chin). But Aunt Beardie is as uncommunicative about those days as Lady Sherlock:
"Don't ask me," replied the lady. "I can't answer that type of question. As for my story, I'm determined never to write a line of it. And I've nothing to tell you. No, my dear child, don't come to me for little anecdotes and stories of how one escaped the guillotine or how another got into prison or out of it. People lost their identities, their characters, their names—they reappeared as something quite different. Some people were so adept in disguises that one day they were one person, another day they were another. Monks left their monasteries and became ruffling soldiers. Nuns escaped from their convents and became women of the town. On the other hand, great ladies became nuns, and fierce dragoons Trappist monks. Royal princesses fled for protection into lunatic asylums, hospitals were full of aristocrats lying in beds disguised as paupers. One became quite used to the sight of blood, that was everywhere. It was common to eat one's food at a restaurant and look down on the tumbrils going past to the guillotine."
Will Jenny ever know her mother's secret? And knowing it, will she make her mother happy?
This is an engrossing book but unfortunately I had little sympathy for Lady Sherlock. And her virtual cold-bloodedness at abandoning her responsibilities (can't say more) in the end, left me even more unsympathetic towards her. Aunt Beardie, on the other hand, had my sympathies mixed with revulsion.
First Line: A young man lay on a hard bed and stared at the square of bright blue sky he could see from his attic window.
*
THE GRASSLEYES MYSTERY by E.P. OPPENHEIM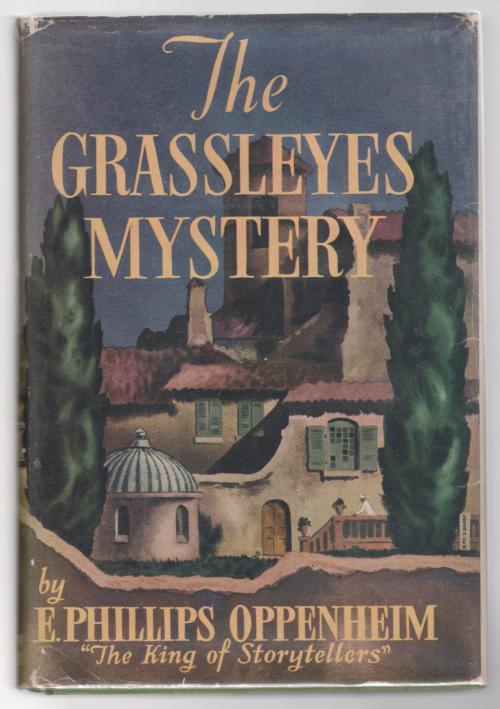 David Granet, professor of Botany, at a University in Bombay as also a secret agent (?) of the British, goes to the Grassleyes Estate of Lady Grassley, in order to rent one of the bungalows round the manoir. However, he finds his landlady dead. At the request of her niece, Granet takes the bungalow and finds himself within an odd assortment of people. The blow hot-blow cold attitude of the niece too intrigues him. Meanwhile, to complicate things further, the doctors refuse to sign a death certificate and then Lady Grassley's body disappears from the clinic. I found the novel meandering. It didn't help matters that the villain of the piece might as well as have stuck a note on his forehead proclaiming his villainy to the world. Eden @JetBlackDragonFly, however, found it an enjoyable read. You can read his fine review here.
First Line: Mr. Frank Woodley looked up from the ledger which he was studying, rose to his feet and approached the mahogany counter behind which he and his desk were entrenched.
*
A SCREAM IN SOHO by JOHN G. BRANDON
An inspector goes to the morgue. The previous night a woman's corpse had been discovered and he is eager to know the post-mortem report from the doctor. The doctor asks him to feel the woman's chin. Bristles!! Excuse me, but in a morgue is this the way to determine the dead person's sex???!!! I picked up this book because it had murders during blackouts. Instead of solid police investigation, however, I got 'hunches' (and the Inspector repeatedly tells us the definition of this new American word); coincidences; loopholes (the person who, in the end, is arrested for committing the blackout murders was at the time of the second murder being chased by the Inspector); a lot of flag-waving; and everything being settled by the fists of the Inspector. I have, subsequently, learnt that the author was a boxer, so perhaps understandable. The only interesting thing about the novel was the depiction of the seedy low-life of Soho, so I am surprised that the British Library gave it such a cover: all very posh and aristocratic.
First Line: In that inexpressibly comfortable little Soho cafe, owned and managed by that dignified Italian lady, the Signora Lucia Spadoglia, Inspector McCarthy sat and waited.
SWEET POISON by RUPERT PENNY
Murder in a boarding school where an irritating pest of a boy who also happens to be the headmaster's pet and nephew is murdered. I know children can be very irritating but it did not seem like cricket to show a child this odious. JJ @TheInvisibleEvent rates this pretty high. His detailed review can be read here.
First Line: HERBERT WEEKES banged the table smartly with his left hand, making half a dozen cups and saucers rattle.
*
YOU'D BE SURPRISED by PETER CHEYNEY
Lemmy Caution makes his way to France from the US (which still hasn't entered WWII) in search of a missing heiress. He encounters dames who are deadly and dangerous. The mission becomes complicated as international players enter the fray. There is a wonderful twist in the end but I wish the villain, [German who else?], hadn't been shown this vile. Also I cannot believe that Caution would come in search of a girl without ever having seen even a photograph of hers. This plot hole destroyed the book for me. My first encounter with Caution was much better.
First Line: YOU'D be surprised!