With little time to spare nowadays, here are brief reactions to reading of three mysteries.
BATS IN THE BELFRY by E.C.R. LORAC (1937)
The question that perplexed me after finishing Lorac's Bats in the Belfry was that how could a novel that began so promisingly, that had me gripped almost its entire length, end on such a pathetic note. To pin a murder on somebody without giving any inkling of his/her family history (which is what leads to the murder) is definitely not what one expects from a mystery. And some of the coincidences near about the end are just too much – car going up in flames, man slipping down the stairs and grievously injuring himself, car developing a snag. Also some of the threads do not get tied up: Who fiddled with the seals? Why was the murderer in a panic and staging a getaway? Disappointing.
First Line: "As funerals go, it was quite a snappy effort."
Publication Details: London: Collins (The Crime Club), 1937
First Published: 1937
Series: Robert Macdonald #13
Other books read of the same author: (Among others) Black Beadle
*
THE CASE OF THE GILDED LILY by ERLE STANLEY GARDNER (1956)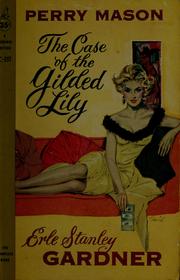 Again a novel that begins extremely well with a man being blackmailed on account of his wife's past. However, Mason is overbearing in this one and with my sympathies with a character whom Mason did not like, it became hard reading. My favourite character was an operative of Paul Drake, and a woman who I hope would leave everything behind and start life anew. The identity of the murderer surprises one and there is an interesting scene b/w Tragg, Della, and Perry but yet I did not like this.
First Line: STEWART G. BEDFORD ENTERED HIS PRIVATE OFFICE, HUNG up his hat, walked across to the huge walnut desk which had been a birthday present from his wife a year ago, and eased himself into the swivel chair.
Publication Details: NY: Pocket Books, 1959
First Published: 1956
Pages: 180
Series: Perry Mason #50
Other books read of the same author (Among others): The Case of the Baited Hook
*
LIGHTNING STRIKES TWICE by JEAN POTTS (1958)
I have not come across many American novels that deal with the question of class (and admittedly my reading of American literature is very limited) so reading this novel by Potts was a novel experience. Potts once again writes a gripping story of the vanities, pettiness, generosity of small-town America. Reading the last sentence filled me with visceral hatred against a character I had liked till then. Over all, this is a tragic story of the unsuccessful quest to belong.
First Line: Evan had forgotten about the wind.
Publication Details: NY: Dell Publishing, 1958
First Published: 1958
Other books read of the same author: (Among others): The Little Lie
*
Have you read these books? What was your reaction to them?