British author, Joan Fleming, is one of the authors I am reading for Rick Mill's Six-Shooter Challenge. Over the past couple of weeks, I read two of her novels.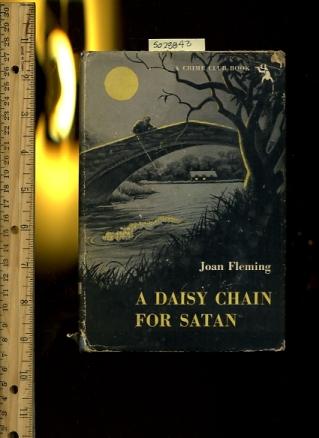 In A Daisy Chain for Satan, Tom Ravensden returns from France to his village in England at the insistence of his nephew, Silas. Once in love with Silas' mother (who later married his brother), Tom has brought up Silas after the latter was left an orphan at a young age. However, Tom is now aghast to see Silas ensnared by his lovely wife, Sigtuna, who Tom is convinced is Satan in a female form. Predictably, there is a tug-of-war between Tom and Sigtuna in which the latter is able to convince others that Tom cannot be taken seriously as he has turned senile. So even when a murder occurs, nobody would believe Tom.
A host of unpleasant characters (led by Tom, who is the narrator of the novel) totally put me off the novel.
With two duds in a row: Death of a Sardine and A Daisy chain for Satan, it was with some trepidation that I started on Maiden's Prayer. A lonely spinster, Stacey Maiden, who has lived her life under the thumb of her domineering mother, finds herself suddenly free to do what she likes after the death of her mother. Keen to sell her old house and move to the country-side, she visits an estate-agent and falls under the spell of Brian Aladin, the British-Persian junior clerk over there. Slowly he charms his way into her life. He is a charming companion and her loneliness disappears but then she realises that he not only is cheating her but also plans to murder her. Will Miss Maiden become his victim or does she have the wits to turn the tables on him?
This is a strange novel where the loneliness of a woman makes her accept (knowingly) even somebody who plans to murder her as her prospective husband. It stretches credulity but the novel reads better than the previous two reads of Fleming.
Have you read her novels? Which one would you recommend?
*
First Line: My first impression of Dulcinea House filled me with gloom…
Publication Details: NY: Ballantine Books, 1969
First Published: 1950
Pages: 217
*
First Line: Mr. George Toyler emerged from the fish restaurant in St. James's Street…
Publication Details: NY: Ballantine Books, 1968
First Published: 1957
Pages: 192
*
Source (for both books) Open Library
Other Books read of the Same Author: The Chill and the Kill; Death of a Sardine, Miss Bones