Shroud of Darkness, my favourite of Lorac read so far, begins with a train journey on a foggy night. Five strangers in a compartment reach London when one of them is coshed on the head and left for dead. As he has no identification-papers on him and his luggage etc has been stolen, Macdonald has a baffling mystery on his hand. As Macdonald meets the other passengers who had travelled with him, it seems everybody except for the PYT are hiding secrets but then the PYT has a shady psychiatrist-boss.
The last Macdonald mystery, The Last Escape, is all over the place. It begins with a prisoner who had succeeded in breaking-out from a German high-security prison, planning to break-out from the English prison he is in. Then there is Macdonald, retired from service, in process of becoming a complacent land-holder and farmer. There is a derelict farm house next to his property in which a decomposed body is discovered and then there is construction work going on a little ahead where the labourers are a rough and hardy lot. There are missing persons who never returned home from war. And in the end there are pages of discussion about psychology.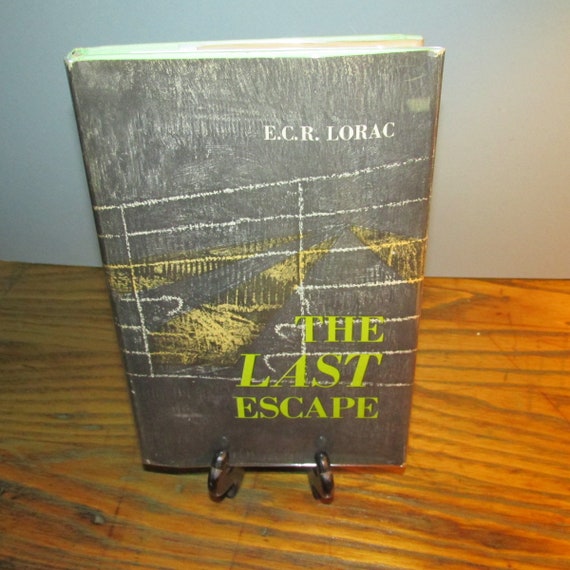 Both the novels reflect the post-war realities of Britain.
In Shroud of Darkness, we find a generation impatient to get ahead. The younger people have neither the time nor the inclination to fret about the war. The war happened and their childhood was much affected by it but now it is time to move ahead. They are also the contemporary readers of what we now call Vintage mysteries. While we browse through dusty shelves of libraries and second-hand book shops and pray that we get a book we can brag blog about, they coolly read and pass about books like The Verdict of Twelve and The Franchise Affair.
The older generation finds itself at odds with the mind-set of the younger (not as regards the books). They have survived the war and done things which they are not proud of, whether guilty or innocent, they have tried to rebuild their lives but the shadow of the past haunts them.
In The Last Escape we find men demobbed who now find themselves adrift in a society. Missing the danger and camaraderie of the war, they take to different ways. Some of them turn anti-social indulging in illegal activities. Thus in the last few pages we have a discussion of what is to be done so that people who have done exemplary service during the war do not turn astray.
*
First Line: "Where are we now?" asked Sarah.
Title: Shroud of Darkness
Series: Robert Macdonald #39
Publication Details: NY: Doubleday & Co.,1954
First Published:
Pages: 221
Other Opinions: A Crime is Afoot, In Search of the Classic Mystery Novel, My Reader's Block
*
First Line: When Rory Macshane saw the raincoat, something inside him said, "This is it."
Title: The Last Escape
Alternate Title: Dishonour Among Thieves
Series: Robert Macdonald #46
Publication Details: NY: Doubleday and Company, 1959
First Published: 1959
Pages: 189
Other Opinions: My Reader's Block
*
Source for both the books: Open Library
*
Have you read these? Any post-war novels, you'd like to recommend?
*