On 15th February, 1894, two members of the Greenwich Observatory  were startled by a 'sharp and clear detonation, followed by a noise like a shell going through the air'. Looking out, they observed the door porter running across the courtyard. Following him, they saw the warden of the Greenwich Park and some school boys, crowding round a grievously injured man. The man who died some thirty minutes later was (as later investigations revealed) a French man by the name of Martial Bourdin who perhaps intended to bomb the Observatory though the bomb (that perhaps accidentally detonated in his hand) would have caused little damage to it. If there are a lot of 'perhaps' in this small note it is because the mystery of the Greenwich Park has never been fully resolved. But it did give an idea to Joseph Conrad to write one of his most remarkable novels:
The Secret Agent.
 [For more on this event, read
here
 and
here
].
First published in 1907, Conrad sets his novel in London of 1886, a year before Queen Victoria celebrated her golden jubilee, in an era when Britannia was ruling the waves. But there were undercurrents of discontent, people who felt that Britain's confident imperial march had to be halted. Thus, we find spies, anarchists, agent provocateurs, manufacturers of bombs, political agents, and even police men who know about these disgruntled elements but have their own agendas to fulfill.
Monseiur Verloc is settled in London where he has a shop selling pornographic material. He lives with his wife Winnie, his mother-in-law, and his brother-in-law, the mentally-challenged Stevie. However, Verloc is also a secret (double) agent who has his comfortable existence shattered when he is asked by his political masters to do something more drastic than merely provide 'worthless' information. Desperate, Verloc comes up with a diabolical plan which exploits the affection that the simple-minded Stevie has for him. However, he had not counted on the love that Winnie had for her brother whom she had always seen as more of a son than a brother.
This book had been on my wishlist for long, partly because I feel in love with its cover: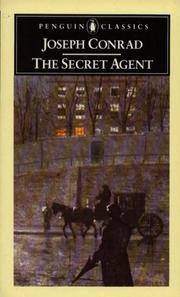 That rain-drenched evening, the hansom, the man with the black umbrella is so quintessentially Victorian that I simply had to read it. The cover (according to the blurb)  shows a detail from Hamstead Hill (1883) by John Atkinson Grimshaw.
First Line: MR. VERLOC, going out in the morning, left his shop nominally in charge of his brother-in-law.
Title: The Secret Agent: A Simple Tale
Author: Joseph Conrad
Publication Details: London: Penguin, 1988
First Published: 1907
Pages: 269
Trivia: Ranked the 46th best novel of the 20th century by Modern Library, The Secret Agent was noted as one of the three works of literature most cited in the American media around two weeks after 11 September 2001. (Source: Wikipedia)
Other books read of the same author: Heart of Darkness, Nostromo, Youth
*
Leslie Ford is the pseudonym of American author Zenith Brown (nee Jones). She also wrote under two other names: Brenda Conrad and David Frome.
The Town Cried Murder, her 1939 novel, is set in Williamsburg, Virginia, some years after the restoration began which saw the city acquire its lost glory. The narrator of the novel is Lucy Randolph, a woman (as Yvette would put it) of certain years. Having lost her lover in the Spanish-American war of 1898, Lucy has transferred her affections to a young cousin, Faith Yardley, who lost her mother in the flu epidemic of 1918. The other members of the Yardley family are Dr. Peyton Yardley, a philanthropic doctor who has withdrawn from the world after the death of his wife, Marshall Yardley, a struggling lawyer virtually adopted by Melusina Yardley, the sister of Dr. Peython and Faith's aunt.
For some reason throughout the book, I kept on reading Melusina as Mehrunnisa which was the original name of Mughal Emperor Jehangir's wife Nur Jehan. And there is something of Nur Jehan's ambitions and lust for power in Melusina. The town lore has it that Melusina can go to any extent to keep her hold on Yardley Hall, the family's ancestral home. Having refused the offer of restoration and forced to selling the artifacts round the house, Melusina now seems determined to sell her niece to a wealthy, middle-aged philanderer Martin Seymour in exchange for his wealth that would restore the house to its former glory. Lucy, of course, cannot bear to see somebody whom she has always considered her own daughter bartered away in this manner. The notice announcing the engagement appears in the papers and sets off a chain of events involving murder and mayhem.
Though I have read many mysteries set in small towns of England, there are only a handful that are similarly set in the US, so it was a pleasure to read one so steeped in the local culture of the American South. At one point, the narrator reflects: "Oh," I said weakly. He knew about Hallie Taswell, then. And Hallie, I thought abruptly, had been an old flame of his eldest brother, and Hugh Taswell was some kin to the Crabtrees. That's the worst of Williamsburg – you scratch the grocer's boy and you find a cousin. (98)
I also got to know about a few interesting things like the Spanish-American war of 1898 about which I had no idea whatsoever. Nor  had I any idea about Rockfeller's restoration of colonial Williamsburg. I am glad to have become acquainted with these things. But one thing I cannot understand is why authors are so enamouerd of golden-haired, blue-eyed waifs. It would be a nice change to see not the innocent maidens like Faith Yardley but wild, passionate girls like (the town's tramp) Ruth Napier getting their men and living happily ever after. In fact, more than the sorrows of Faith, it was Ruth's passionate but doomed love for her man that really touched me.
According to the articles on the Net, the author has received a lot of negative press for her portrayal of Black Americans. I do not know about her other books but in this there is hardly any thing of that sort except for the fact that unlike the other residents of the town Martin Seymour has a white man as his servant which is presented as another black mark against him.
First Line: The first I know that Faith Yardley was actually going to marry Mason Seymour was the afternoon her aunt Melusina Yardley stopped me going in to the Powder Horn in Market Square to a meeting of the Society for the Preservation of Virginia Antiquities.
Title: The Town Cried Murder
Author: Leslie Ford
Publication Details: Madras: WM. A. Collins, 1944
First Published: 1939
Pages: 146
Other books read of the same author: None
*
Submitted for various challenges.